Founder Dutch Schorn has been surfing for over 36 years. He has taught surf lessons, clinics, and camps for the past 20 years, and is currently the Eastern Surfing Association district director. Dutch is also the Volunteer Coordinator for the Broward County Chapter of Surfrider Foundation, manager of BC Surf and Sport and team manager for the surf team.
"After traveling the world in search of waves, I have gained knowledge and experience in all aspects of surfing. Surfing has expanded my horizons and opened up many doors for me. I invite you to come share these experiences. Learn about water safety, ocean awareness, and surfing etiquette. I guarantee you will ride a wave on your first lesson or your money back!"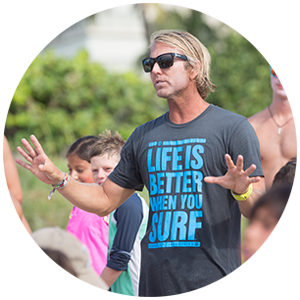 Hangloose Surf School from Ray Stranagan on Vimeo.